The Animal Kingdom in Disney World – Our Best Tips!
Covering over 500 acres, the Animal Kingdom in Disney World is the largest theme park of them all! Nature, animals, and conservation are the overarching themes that you will encounter throughout the park. There are four lands situated around Discovery Island, which is encircled by the Discovery river. Thrill seekers in your group can scale Mount Everest and attempt to escape the Yeti, while those seeking lower key attractions can take a leisurely boat ride through the exotic forests of Pandora. Excite everyone with an awe-inspiring viewing of the Broadway-style show: The Festival of the Lion King. The Animal Kingdom is just loaded with amazing entertainment for everyone in your group!
Animal Kingdom Park Overview
You'll begin your journey as you enter the park passing first through the Oasis. A lush garden area with several pathways containing small exhibits of exotic plants and animals. The pathways converge before crossing the Discovery river, bringing you to the entrance of Discovery Island where you will have your first breathtaking view of the Tree of Life.
This beautiful 145 foot tree, with over 300 animal carvings, symbolizes the interconnected nature of Earth's creatures. There will be photopass photographers a little further up the path, ready to capture some amazing memories with the Tree of Life as the backdrop. You'll also want to revisit this location in the evening as the sun goes down for some pictures as the Tree comes to life with digital projections in beautiful colors.
If you decide to purchase the photopass from Disney, be sure to take full advantage of those photography spots. The locations will be labeled within your guide-map. Those photos can bring back memories that you will cherish for many years. If you decide not to purchase photopass, keep in mind that those same photographers will take photos for you using your personal camera as well.
Paths from the Oasis will bring you to each of the four distinct lands within Animal Kingdom.
Asia
When you enter the land of Asia in the Animal Kingdom, you are entering the fictional kingdom of Anadapur. You'll see ruins and ancient temples overgrown with lush vegetation. This land is home to the Maharajah Jungle trek, Up. A Great Bird Adventure, the Kali River Rapids, and Expedition Everest.
The ride to plan for here, in my opinion, is Expedition Everest. Under normal circumstances, I recommend using a fast pass, if possible, for this ride. Currently the Fast Pass+ ride reservation system has been suspended until further notice due to new procedures that have been put into place. You may want to keep an eye on those wait times as your trip date nears, however, the peak wait times we are seeing for this ride have been less than 20 minutes this month.
Kali River Rapids is a whitewater raft ride that WILL get you wet. Quick tip for those who don't want to chance getting soaked, but still want the experience, is to don a poncho for this ride. You'll want to store any items that you wouldn't want to get wet in a locker for safe keeping. Kali River is another good use of a fast pass once they resume. The total ride experience is about ten minutes, and you must be 38 inches tall to ride.
Yak and Yeti is an excellent table service restaurant location available in Asia. The back story is that a local merchant has turned his home into a hotel with the restaurant being at the center. You will find high quality pan-Asian cuisine offered at this Landry's group operated location. Members of the Landry's Select Club are able to use their cards and points here as well. Quick tip here, if you become a member of the Landry's Select Club, you will be given a nice discount to use during your birthday month at any of the Landry's locations.
Africa
When you enter into Africa at the Animal Kingdom, you will be entering the bustling village of Harambe. It's not uncommon to catch drummers, acrobats, and other performers near the entrance of the village. The highlight attraction here is the Kilimanjaro Safari.
This is a must-do for all ages! Up close encounters with all kinds of animals here. Although Disney has ways of encouraging the animals to be present in viewable locations, if you hit this one early in the morning, or later in the evening, there are usually more animals out and about. Be prepared for an extremely bumpy ride in your safari vehicle.
Africa is also home to another must-do that is sadly not available at the moment due to COVID precautions. The Festival of the Lion King is an awe-inspiring Broadway-style musical performance that will leave you speechless. Tremendous talent here. If this show becomes available during your visit I highly recommend taking the time to view this 30 minute show. You will be seated indoors on bleachers, and although the lower level seats tend to be used more for audience participation, every seat has a good view of the show (given you are not a little one sitting directly behind a tall one).
The Wildlife Express train station is located in Africa as well. The train will take you out to Rafiki's Planet Watch which is home to the Conservation Station, Affection Section, and the Animation Experience. The Affection Section is an adorable petting zoo that is temporarily closed. The Animation Experience is a great choice for the budding artist in your group. Led by a Disney animator, you will be given step by step instructions as you draw your very own Disney character. All ages are welcome for this super fun experience.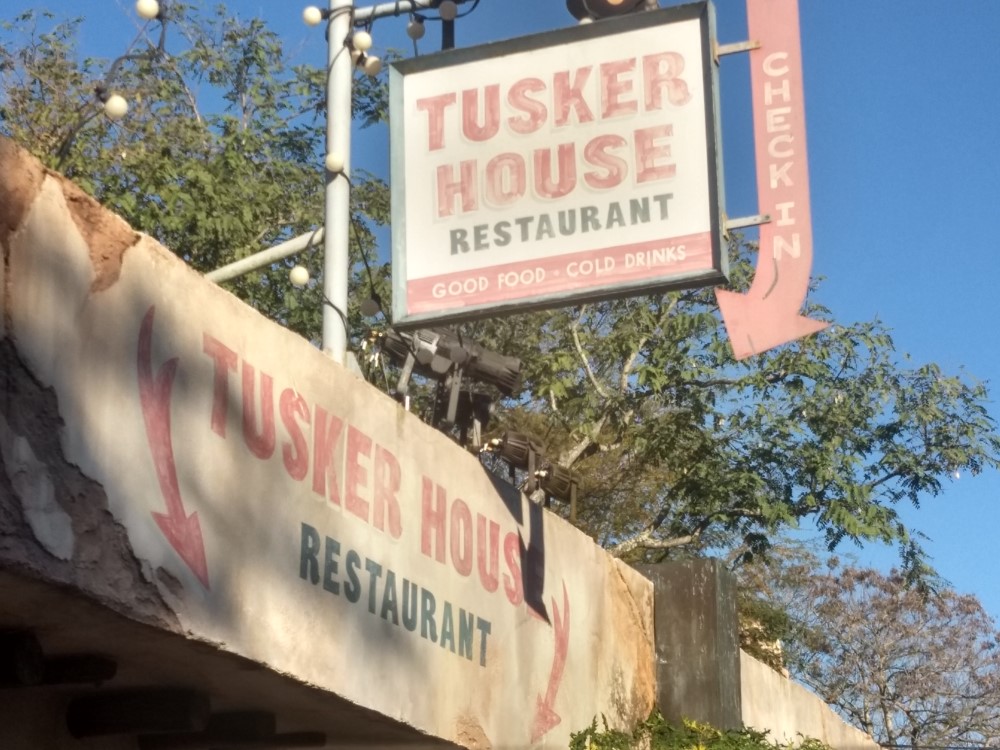 Tusker House is the character dining experience at the Animal Kingdom in Disney World. Temporarily closed due to COVID precautions, this is an all you can eat buffet that offers meet and greets and photo ops with your favorite Disney friends. An early morning breakfast reservation here before the park opens will place you in prime position to grab an early safari ride at an optimal time for animal viewing.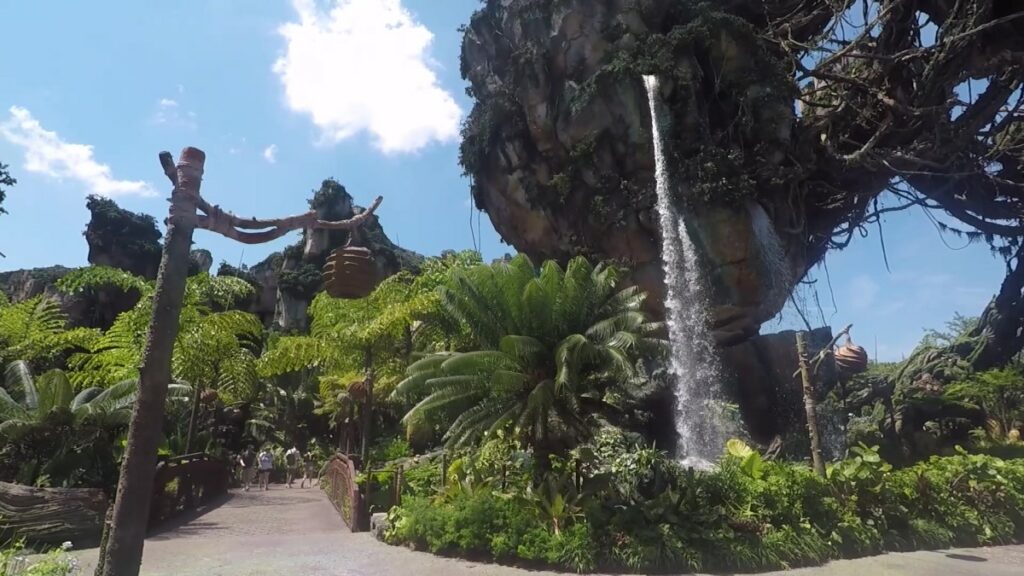 Pandora – The World of Avatar
Pandora is the newest land in the Animal Kingdom. It's located to the southwest of the Tree of Life, or to your left if you have just come through the entrance and have walked through the Oasis. The theme here is based upon the movie, Avatar by James Cameron. If you have never seen the movie, I would highly suggest giving it a view before your visit to the Animal Kingdom. The imagineering done in Pandora is off the chart, and I think you will have a much better appreciation for it, having seen the move.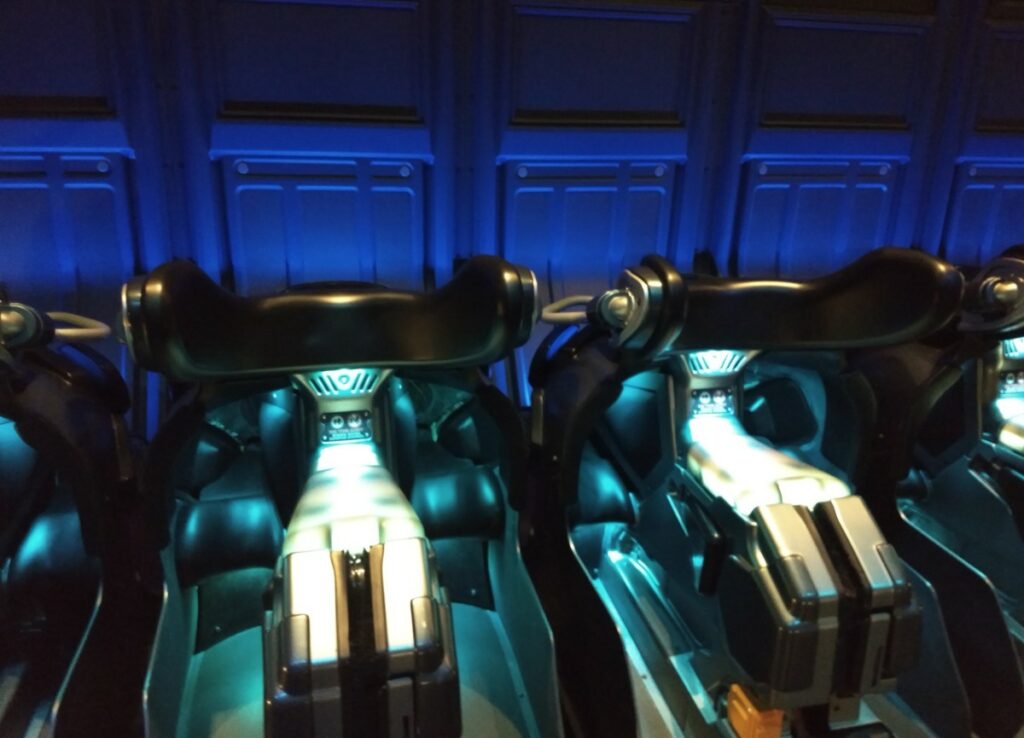 There are two attractions here: Avatar – Flight of Passage, and Navi River Journey. Flight of Passage is, by far, my favorite experience in all of Disney World. This is a must-do for anyone who is able to experience it. I say this because you must be 44 inches tall, and in good health to ride. Side note, if you are prone to motion sickness, you may want to take precautions prior to experiencing this attraction. As for accessibility concerns, you must be able to transfer to a standard wheelchair, and then to the ride vehicle which is similar to the old arcade-style motorcycle riding games.
Flight of Passage is an extremely popular ride. The wait times for this one can be really bad without a fastpass. If you are not able to secure a fast pass for this one, you'll want to get to the park before it opens and head straight for Flight of Passage. It may be difficult to get your crew up early while you are on vacation, but once they have experienced this amazing ride, and then see the line that has quickly built up as they exit the ride, they will thank you!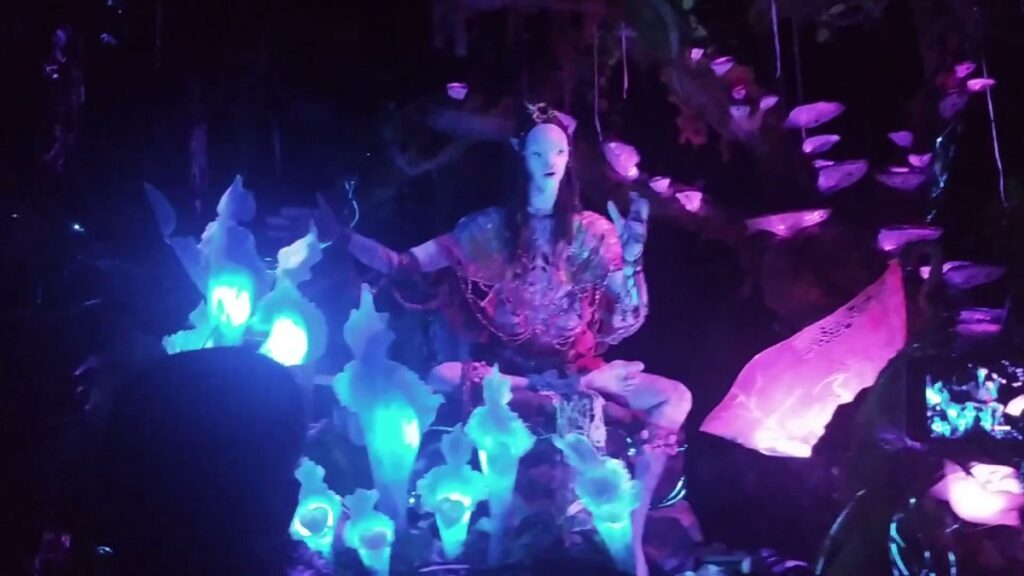 Navi River Journey is popular too, but it won't see the wait times that Flight of Passage will see. If you were able to jump onto Flight of Passage early in the morning, you will probably be able to go directly to Navi River next with little wait.
Satuli Canteen is a quick service restaurant in Pandora that serves up healthier fare for lunch and dinner. You'll find hearty bowls filled with proteins, vegetables, and grains. If you have pickier ones in your group, you will also find hot dogs, cheese quesadillas, and cheeseburger pods.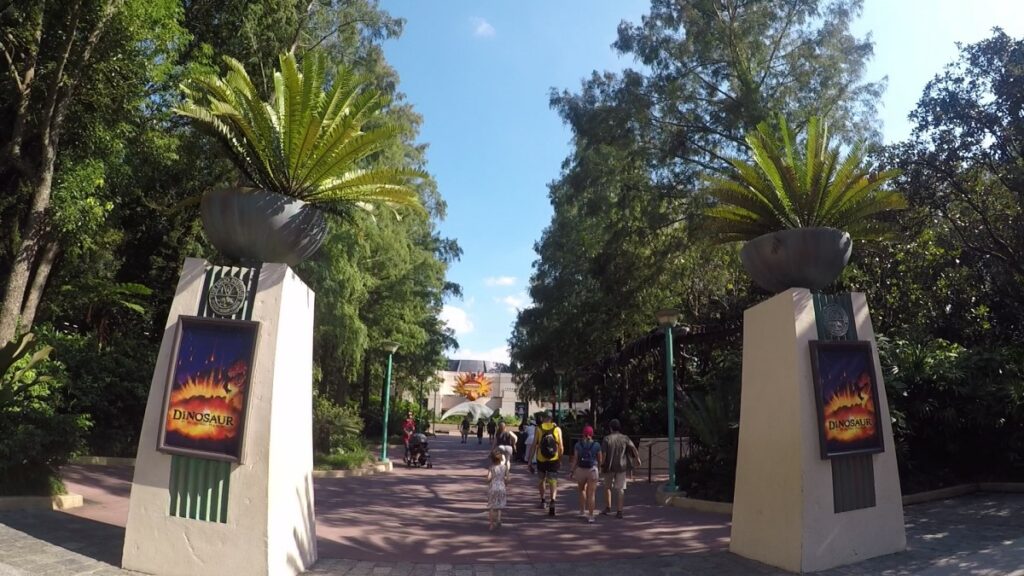 Dinoland USA
Dinoland USA is the perfect spot for the dinosaur enthusiast in your group. It's also a great spot for the younger ones. Here you will find Chester and Hester's Dino-Rama which is Animal Kingdom's version of the Big Top Circus at Magic Kingdom, a fun area filled with attractions for the little guys. Triceratop Spin, Fossil Fun Games, and Primeval Whirl are located here. You will also find The Bone yard which is a playground for the kids. In addition to the attractions for the younger crowd, Dinoland is also the home for the popular Dinosaur attraction.
Triceratop Spin is a ride like Dumbo and Aladdin's Carpets, only the cars are Triceratops. Super cute and the kids always love these rides.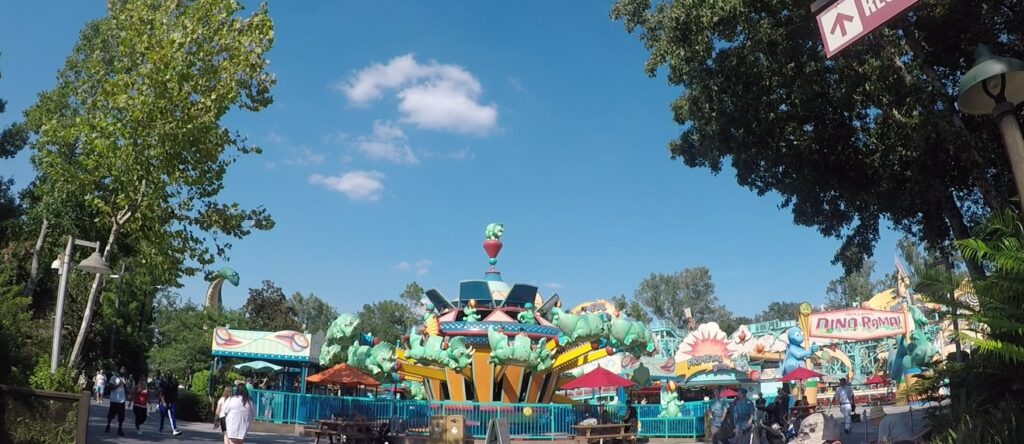 Primeval Whirl is what happens when a roller coaster meets a tilt a whirl. Spinning cars on a coaster track will keep you guessing which direction you'll be headed next. Fair warning, you may not want to ride this one too soon after eating.
Fossil Fun games is an area filled with carnival style games that will cost extra money to play.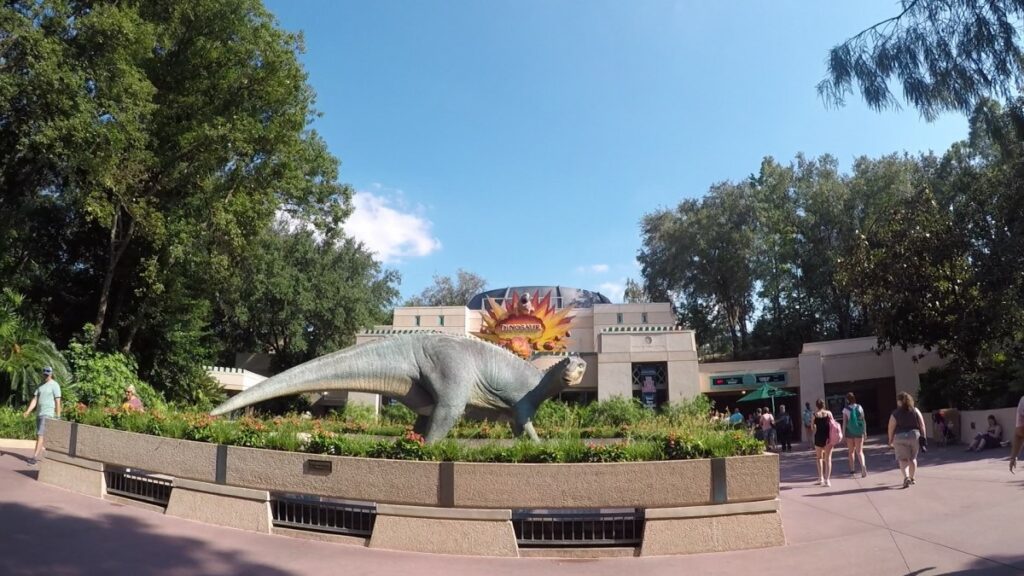 The thrill seekers in your group over 40 inches tall will want to visit the Dino Institute to take a ride with a paleontologist into the past. A 3.5 minute experience that will have you racing back to the present to escape the Velociraptor. This is a very bumpy ride, and the majority of this ride takes place in a dark environment, for those of you who may have sensitive members of your group.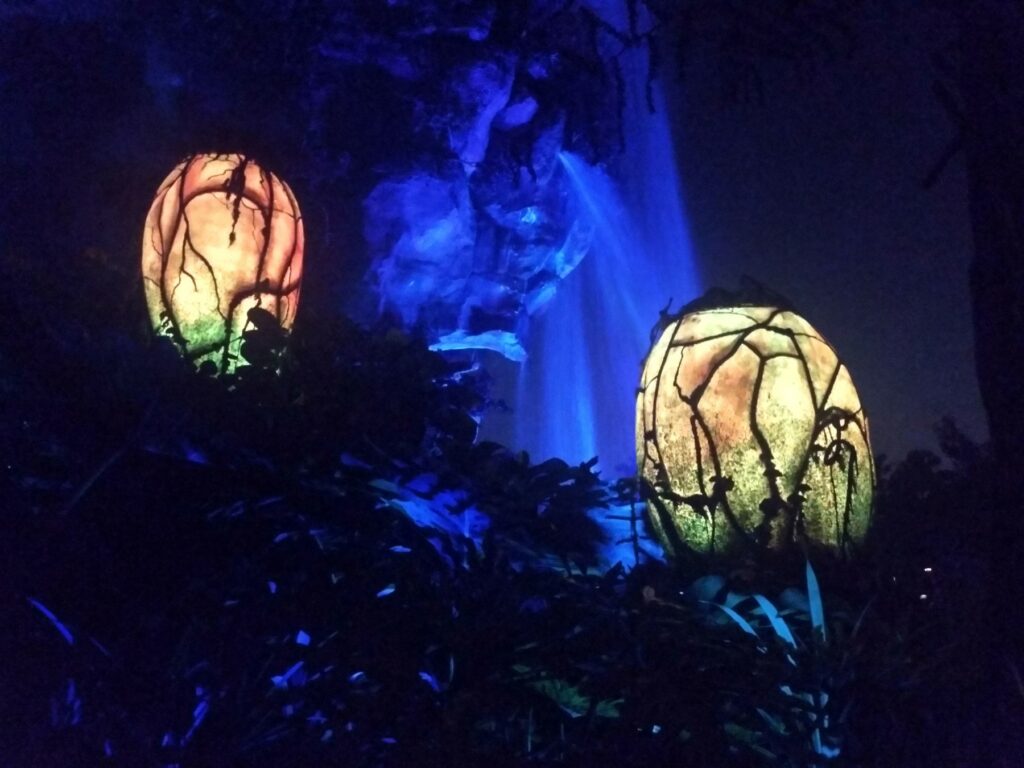 Animal Kingdom After Dark
Spending a day at the Animal Kingdom will surely be a day fill with fun and excitement. As the sun goes down, however, the park transforms and you can experience it all over again. Beginning with the Tree of Life, you will notice after dark, colorful projections appear to "awaken" the tree with new life. Pandora, the World of Avatar takes on a whole new appearance as the luminescent foliage begins to light up in full color. Kilimanjaro Safari is a fantastic experience at night, as the nocturnal animals that were not active during the day begin to roam about.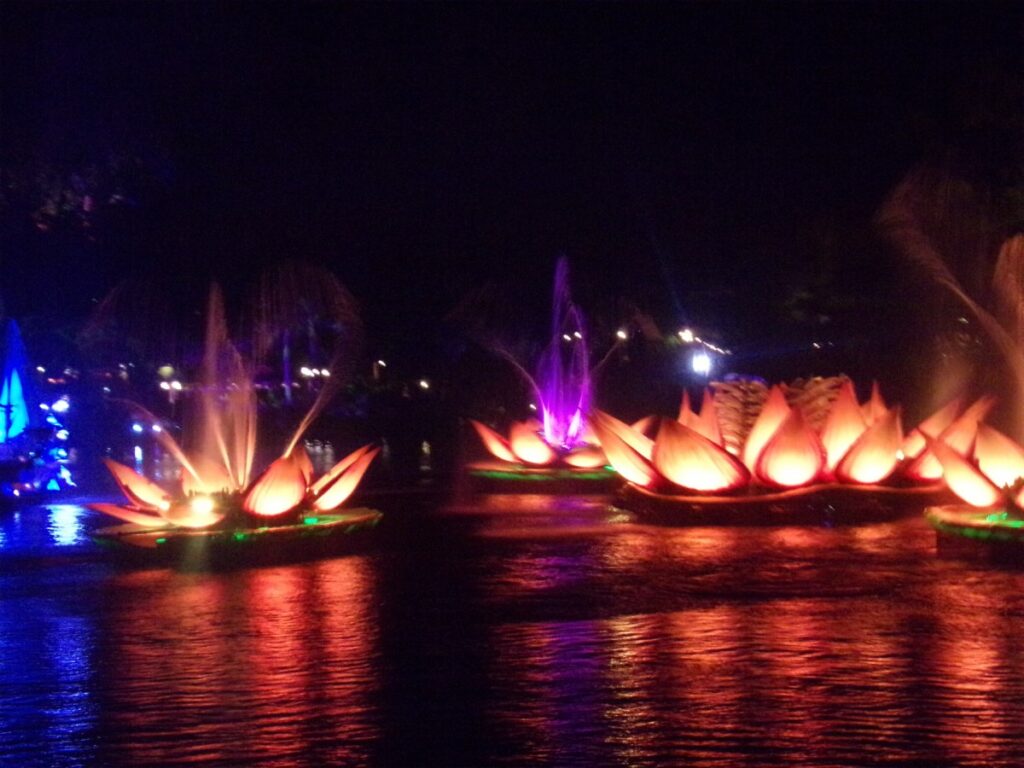 Rivers of Light: We are One is the nighttime spectacular that takes place at Animal Kingdom. It is an impressive laser light musical water pageant that is viewed from the tiered seating surrounding the Discovery Lagoon. The show has been temporarily suspended due to the COVID precautions, but once it again becomes available, this one is a must see. A fantastic way to end your day at the Animal Kingdom in Disney World.
If you have any questions or comments, and especially any tips for visiting the Animal Kingdom that you'd like to share, We'd love to hear from you. Please drop us a comment below!