The Rides at Disney World's Magic Kingdom, Part II
When you are planning that amazing trip to Disney, if you are like me, you have a must-do list and an itinerary that is filled with all the entertainment, rides, and restaurants that you have painstakingly picked from all the on-line research you can muster. When it comes to the Magic Kingdom, there's so much to see and do, that one day is just not enough. This is part two of a list of rides at Disney World's Magic Kingdom that will hopefully be a help to you as you plan the ideal itinerary for your group. If you missed part one, be sure to check it out here. It covers Adventureland, Frontierland, and Liberty Square.
The Rides in Fantasyland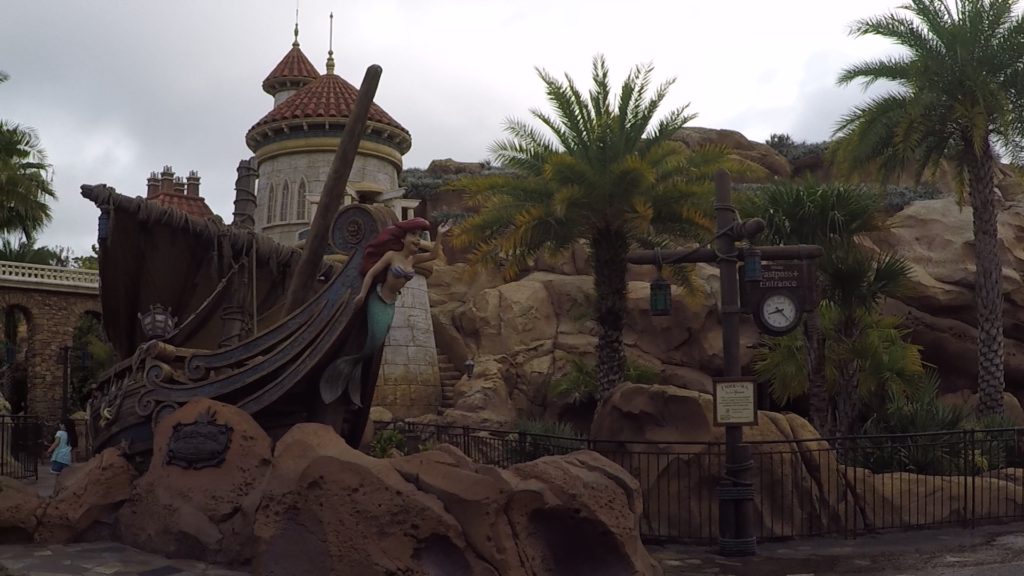 Fantasyland is a rather large section of the park. You can get to it from Liberty Square, from Cinderella Castle, and from Tomorrowland. If you have really young ones in your group, you'll probably find yourself spending a big chunk of time in this section of the park. There's loads of great entertainment for the little ones here, but you'll also find classic Disney entertainment that the older and grown-up kids will love as well.
Prince Charming's Regal Carrousel

This Carousel stands out in a central location within Fantasyland. With the backdrop of Cinderella's Castle, this classic ride entices kids of all ages.

Mickey's Philharmagic

An indoor 3D presentation that you won't soon forget. You'll be seated in concert hall style seating for the duration of the 12 minute show. A nice break from the Florida weather. Wheelchairs and ECVs are welcome.

Peter Pan's Flight

Your very own pirate ship will whisk you away to Neverland in this slow moving, low light, adventure. This is a classic favorite among park goers, and as such, the lines here tend to be quite long. Your best bet will be a fast pass, or if that is not an option, try to grab this one right when the park opens. No wheelchairs or ECVs here, you must be ambulatory to ride.

It's A Small World

Super cute, slow moving, boat ride that takes you on a world tour. One of the original opening day attractions in 1971, this has been a popular attraction ever since. As you float down Seven Seas Waterway, you'll see nearly 300 dolls with outfits representative of their respective nations around the world, and you'll hear that famous song in 5 different languages. Wheelchair access is available for this attraction.

Under the Sea – Journey of the Little Mermaid

Climb into an adorable clam shell that will transport you into Ariel's underwater world without ever getting wet. A must-do for princess Ariel fans. Wheelchair access is available here as well.

The Barnstormer

Join Goofy aboard his stunt plane coaster at Storybook Circus. A great introductory coaster ride that lasts less than a minute long. There is a 35-inch height restriction to experience this one.

Dumbo the Flying Elephant

Another classic theme park attraction with a Disney twist. The little ones flock to this attraction! Thankfully there is a virtual queue in place for this one, so you will not have to wait in a long line outside, instead you can take advantage of the covered play area.

Mad Tea Party

If you are prone to motion sickness, this may be one you want to avoid. The disc at the center of the cup is used to spin you faster or slower. The theme here is based upon the Mad Hatter in the Alice and Wonderland story. There's no height restriction, and you must be able to transfer from your wheelchair or ECV if you are using one. This is an outdoor, covered ride, and the queue is outdoors as well.

The Many Adventures of Winnie the Pooh

Take a ride in a giant honey pot, and visit your friends from the Hundred Acre Wood. Super cute slow ride that can get a little bumpy, and has a couple of dark spots. Total ride time is approximately four minutes, and the entire ride is indoors and climate controlled. Great choice for Pooh fans.

Seven Dwarf's Mine Train

One of my favorites, the animatronics here are adorable! This is a mild coaster themed after the Disney movie, Snow White and the Seven Dwarfs. Your side to side swinging ride vehicle is super fun as you round all the twists and turns. There is a 38-inch height restriction here, and you must be able to transfer from your wheelchair or ECV, if you are using one.

Enchanted Tales With Belle (currently closed)

I want to call this one, "story time with Belle". It is kind of an immersive meet and greet. You'll walk through Maurice's cottage and workshop as you wind your way through the queue, then magically, you'll find yourself at the Beast's castle. Select volunteers here will get to take part in bringing Belle's story to life, and everyone has a fun time.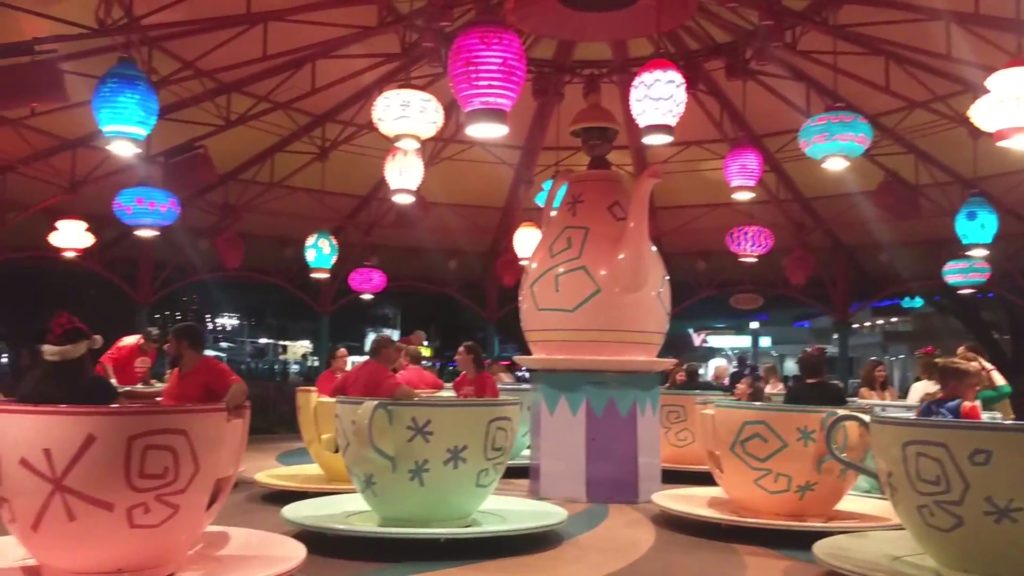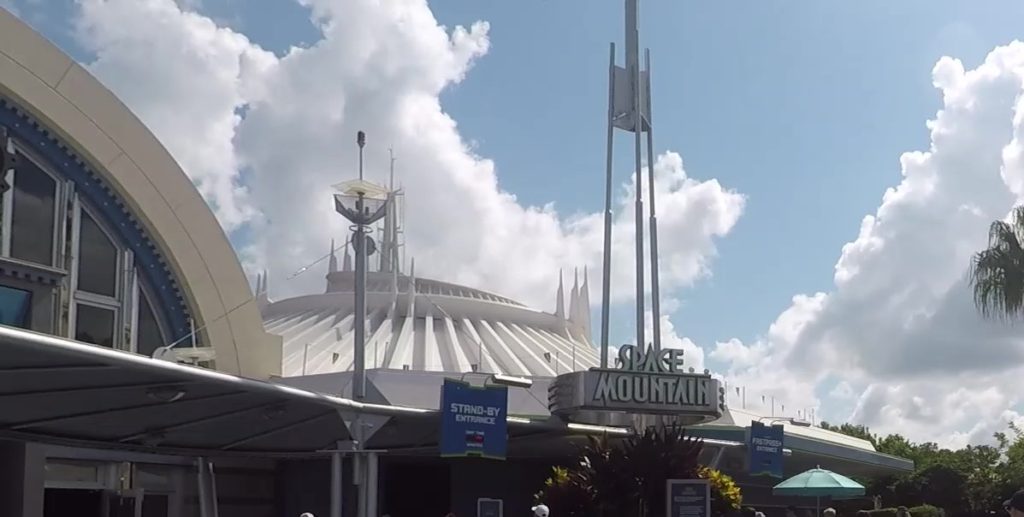 The Rides in Tomorrowland
Like stepping back into the future, you'll find some out-of-this-world theming going on in this area of the park.
Tomorrowland Speedway

A very cute raceway for the young auto enthusiast in your group. The track is super cool, but the cars move relatively slow. You must be 32 inches tall to ride, and you must be 54 inches tall to drive a car by yourself. The track received a very cool Christmas light layover for the holidays last year, it was beautiful, and you had to drive the track to really get a good look at all of the decorations.

Space Mountain

This one is a super fast roller coaster completely in the dark! If you like thrill rides, then you'll love this one! You'll only see streaks of light and shooting stars flying by you as the dips and turns come out of nowhere. The ride lasts just under 3 minutes, and you must be 44 inches tall to ride. Space Mountain is very popular, and the wait can be very long. This is a good use of a fast pass, and if you are not able to get one, I would suggest heading straight for this ride at park opening.

Astro Orbiter

Another Disney themed, standard theme park staple with the cars moving around in a circle. Amazing how the kids always want to ride all of these, as if putting it in a new setting with a differently shaped car makes it a whole new ride experience. Astro Orbiter is, however, the centerpiece of Tomorrowland, and the inspiration for many an Instagram photo.

People Mover (Temporarily closed for refurbishments as of the date of this post)

Enjoy a full ten minutes of relaxation and cool views of the park on the futuristic, Tomorrowland Transit Authority People Mover. Your trip will be narrated as you catch back stage views of Buzz Lightyear's Space Ranger Spin, Space Mountain and the Star Traders shop. This is a must do with a fast moving line that will give everyone in your group a nice break.

Walt Disney's Carousel of Progress

An indoor theater-style show with animatronics that depict how technology has changed our lives through the years. The theater has a circular stage that the seating area actually revolves around to be presented with each part of the show. The total show lasts for 21 minutes and is both wheelchair and ECV accessible.

Buzz Lightyear's Space Ranger Spin

A not to miss, interactive, ride in a star cruiser where you will help Buzz to defeat Emperor Zurg by firing your infrared laser cannon. The attraction is rather low light, and is very slow moving. There is a joystick in the ride vehicle that will allow you to spin your vehicle 360 degrees to take aim at your moving targets. Score is kept for each ride vehicle so that you can challenge other members of your group.

Monster's Inc Laugh Floor

A theater style interactive show that may have you laughing until your sides hurt. Audience participation makes this show super entertaining every time you see it. Indoors, climate controlled, and wheelchair or ECV friendly. You can text your very own corny jokes to the number provided while you are in the queue, and they may just be used in the show. The show lasts about 15 minutes, and don't forget to say "hi" to "that guy" when you are leaving.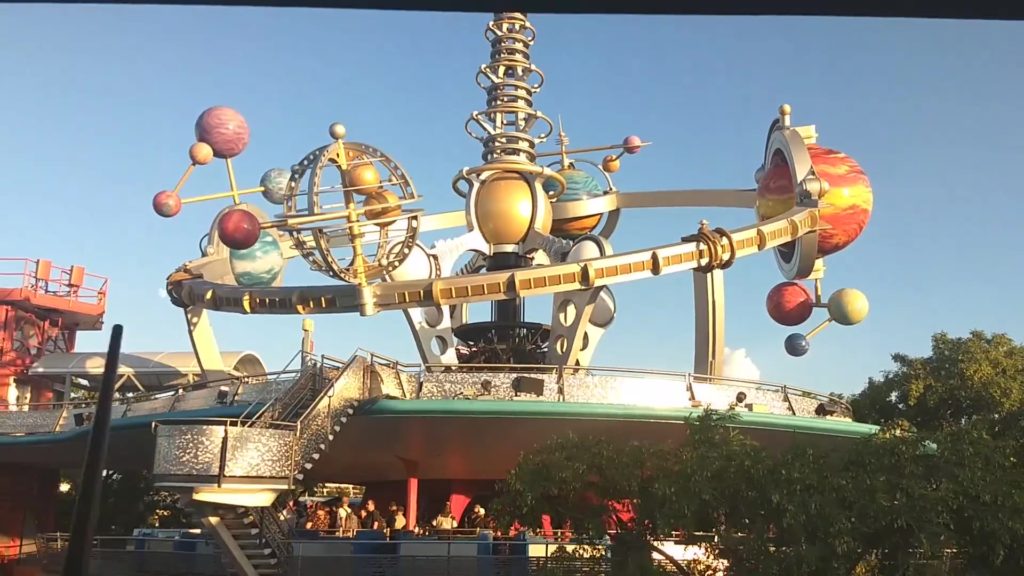 Rides Under Construction
Walt Disney World Railroad is a classic that brings out the kid in all of us. You would normally find these steam trains circling the Magic Kingdom park with stops in Frontierland, Fantasyland, and on Main Street U.S.A. at the park's entrance. Currently the trains are not running due to construction that is taking place in the park. These vintage steam trains are sitting stationary so that you can still grab photos at the main entrance and at the Fantasyland station.
The exciting construction taking place inside of Tomorrowland is the future home of the Tron Lightcycle Run Coaster. This coaster has been under construction for a couple of years, and is situated behind the Tomorrowland Speedway, and beside Space Mountain. The Magic Kingdom Tron coaster is a copy of the coaster that became popular at Shanghai Disneyland. This part indoor, part outdoor coaster, set to open some time in 2021, should be popular among the thrill seekers at Disney.
New Relaxation Stations
In case you are not aware, Disney World guests two years and older, currently must maintain face coverings while visiting the parks. They are only to be removed while stationary and consuming food and/or beverages. The park guide map currently labels three locations in Magic Kingdom as "Relaxation Stations". The park guide describes these locations as a, "Controlled area where face coverings may be temporarily removed". These stations appear on the guide map at Tomorrowland Terrace in Tomorrowland, at Pete's Silly Sideshow in Fantasyland, as well as a location marked near Pecos Bill's Tall Tale Inn and Cafe, sort of in between Adventureland and Frontierland. I've not personally experienced these "relaxation stations" yet, but as we make our way back to the magic again on our next trip, I will have some photos for you, and I'll let you know what you can expect.
Know that you are making magical memories
The magical atmosphere of the Magic Kingdom brings about feelings of such joy and peacefulness in many of us, that it becomes almost addictive. It's as if you truly begin to crave that next trip to Disney. Marketing geniuses, they truly are! So make your list, and have a plan in place so that your valuable vacation time is spent more on making memories, and less at looking at the map trying to decide what everyone wants to do next.
Be sure to make time to create those magical memories!